~Please hit the "Translate" button for your language~
Nota

:

Va rog sa votati categoria voastra preferata de pe Outlaws Magazine la sondajul din dreapta/Please vote your favourite category from Outlaws Magazine at the poll on the right side of your screen.
Outlaws Magazine va prezinta si in aceasta zi de duminica sub forma celor mai fade randuri pe care le scriu saptamanal si pentru care ma rog la fel de des sa nu fac dizenterie,evenimentele din muzica ce s-au petrecut in saptamana ce tocmai se incheie.Cu sau fara alte boli digestive si stari contradictorii,trebuie sa mentionez ceva in introducerea de astazi.In stirile ce urmeaza veti vedea mai degraba o colectie sub forma de tribut adusa unor trupe mari-din pacate toate astea chiar au fost anuntate in ultimele 5 zile si e cu atat mai ingrijorator pentru tinerii care nu au apucat nici macar sa prinda apogeul sau declinul unora dintre ei,dar acum pot urmari documentare sau concerte de adio stiind ca nu au de unde sa inlocuiasca macar un 25% din ce au reprezentat acei oameni,acei artisti.Industria muzicala si publicul din intreaga lume ar trebui sa se ingrijoreze real la auzul acestor stiri.
The Black Crowes s-au despartit
Source:www.rockbandaide.com
Chitaristul The Black Crowes,Rich Robinson a declarat recent intr-un interviu ca trupa s-a despartit si ca este mai mult decat mandru ca a avut ocazia sa lucreze cu asemenea muzicieni cum sunt colegii sai de trupa timp de 24 de ani.Robinson a mai spus si urmatoarele in cadrul aceluiasi interviu."I hold my time with the Black Crowes with the utmost respect and sincerest appreciation. It is a huge swath of my life's body of work. I couldn't be more proud of what we accomplished and deeply moved by the relationships people created and maintained with my music. That alone is the greatest honor of being a musician. I love my brother and respect his talent, but his present demand that I must give up my equal share of the band and that our drummer for 28 years and original partner, Steve Gorman, relinquish 100 percent of his share, reducing him to a salaried employee, is not something I could agree to."
Chiar daca au existat mai tot timpul tensiuni intre cei doi frati,Rich si Chris Robinson,fanii grupul au fost luati prin surpindere la aflarea cestei vesti dupa ce,anul trecut in Octombrie,Chris spunea revistei Rolling Stone ca totul s-a rezolvat.
Ultimul album lansat de ei este Before the Frost...Until the Freeze,2009.Niciun alt membru al trupei nu a comentat aceasta situatie.
Quiet Riot lanseaza documentarul Well Now You're Here,There's No Way Back
Source:www.blabbermouth.net
Well Now You're Here,There's No Way Back a fost ideea si lupta dusa de tobosarul Frankie Banali pentru a-l omagia pe Kevin DuBrow,solistul Quiet Riot care s-a stins in 2007.O lupta care,atat spre bucuria lor cat si spre bucuria evidenta a fanilor,a fost castigata in favoarea trupei si documentarul va fi lansat pe 29 Ianuarie.Povestea urmareste trupa inainte si dupa moartea lui DuBrow,prezinta greutatile prin care au trecut ca un grup si toate incercarile lui Banali de a-i tine pe toti impreuna.Urmereste intreg firul narativ intr-o nota persoanala,prezentandu-ne evolutia muzicii Metal de la mijlocul anilor '80,cand Quiet Riot era,la propriu,pe val si pana astazi,modificarile de line-up,modul in care s-a schimbat muzica si cum afecteaza toate acestea o trupa.
Documentarul a castigat deja doua premii importante:Best Music Documentary Award la Oregon Independent Film Festival si Outstanding Achievement in Filmmaking-Music Honor la Newport Beach Festival,2014.
The Dirt,filmul biografic Motley Crue este,in sfarsit,oficial,in proces de creatie
Source:www.amazon.com
The Dirt:The Confession of the World's Most Notorious Rock Band a ajuns in sfarsit in fabrica Hollywood-ului,pentru a ajunge in final,dupa ce a trecut pe la regizorul Gone Girl si Fight Club,la Focus Features.Momentan,productia este la stadiul de casting si eu una abia astept sa vad ce iese.Filmul,de oricine ar fi produs acesta,se bazeaza pe viata nebuna a membrilor uneia dintre cele mai periculoase trupe Rock cu care am putut face cunostiinta vreodata.Nikki Sixx,spunandu-le celor de la Rolling Stones acum 2 ani "This movie is insane. Even just the way the movie starts, you're like, 'How the hell are we gonna rate this thing?".Desi nu reprezinta o informatie oficiala inca,acest film s-ar putea sa reprezinte pelicula de adio Motley Crue,Vince spunea in August anul trecut ca daca e sa o faca,o vor face mai mult ca sigur la Whiskey a Go Go pe 17 Ianuarie 2016,aniversarea trupei de 35 de ani.
Chris Cornell a inceput la noul album solo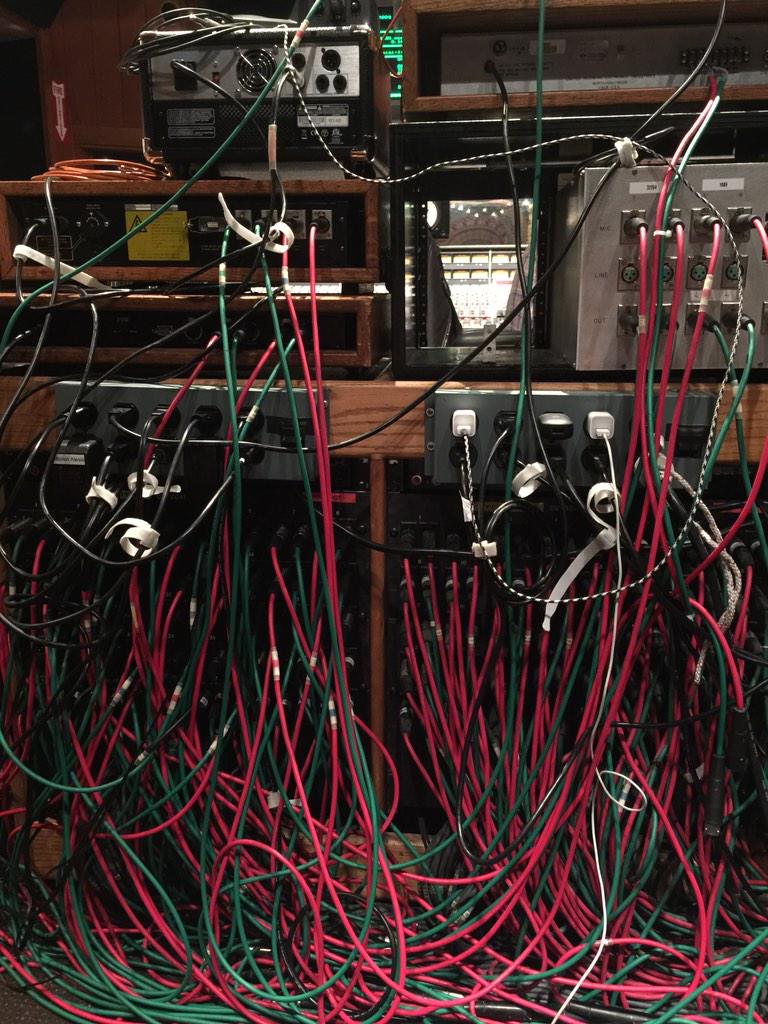 Source:www.twitter/chriscornell.com
Chris Cornell,solistul Sodungarden a postat acum 3 zile pe contul sau oficial de Twitter o poza in care putem vedea cateva zeci de fire si cabluri alaturi de mesajul "Back in the studio!".
Cornell si-a lansat primul album solo,Euphoria Morning in 1999 si de atunci a mai lansat inca doua materiale,Carry On si Scream,alaturi de care a lucrat cu Timbaland + un album acustic live,Songbook.Soungarden a lansat o colectie de 3 CD-uri in Noiembrie anul trecut si zvonurile spuneau ca se pregatesc sa intre in studio in primavara anului 2015 pentru un altul.Nu stiu cum se descurca cu atatea,dar tot respectul meu pentru Chris Cornell.
Halestorm au lansat un single nou de pe Into the W

i

ld Life
Source:www.blabbermouth.com
De cateva saptamani,Lzzy Hale,solista Halestorm,a inceput sa posteze cate o litera sub forma de poze pe pagina sa oficiala de Facebook pentru a-si face fanii sa formeze cuvinte(poate?),sa ghiceasca initialele cantecelor de pe noul album sau,cine stie,poate chiar titlul acestuia.Oricum,acum cateva zile a aparut pe Internet single-ul "Apocalyptic" extras de pe mult asteptatul Into the Wild Life care urmeaza sa fie lansat pe 7 Aprilie si pentru care,daca nu sunteti destul de incantati,trebuie sa stiti ca urmeaza si un turneu de promovare alaturi de The Pretty Reckless.Baieti,poate nu va puneti sa strangeti bani.
Aveti mai jos cantecul pentru care eu una regret ca nu am mai asteptat doua saptamani sa fac top-ul Cele mai bune 20 de cantece Halestorm pentru ca suna chiar bine,imi place ca s-au dus putin mai departe de zona lor de confort cu instrumentalul.
Membrii Grateful Dead ramasi in viata se reunesc in Iulie pentru un concert de adio
Source:www.cidentertainment.com
Membri Grateful Dead ramasi in viata ,se vor reuni pentru ultima data,in numele celei de-a 50-a aniversara a grupului pe 3 Iulie la Chicago's Soldier Field unde vor sustine 3 concerte.Mickey Hart,Bill Kreutzmann,Phil Lesh si Bob Weir sunt cei care vor inlocui locurile lasate libere in cele ce vor fi ultimele concerte sustinute vreodata de Grateful Dead.
Fare Thee Well:Celebrating 50 Years of Grateful Dead au loc la aproape 20 de ani de cand trupa a cantat alaturi de Jerry Garcia.Trey Anastasio de la Phish este cel care va intreperta vocal alaturi de membri originali,impreuna cu claparul Jeff Chimenti si Bruce Hornsby care a mai fost in turneu cu Dead in 1992.Anastasio a spus despre Garcia si Dead "Jerry Garcia was a great American master and the Grateful Dead are not just a genuine piece of musical history, but also an important part of American history./ This is a band, born right at the beginning of electric rock, that took the American tradition and moved it forward. They really embodied the American concept of freedom, rolling around the country with a ginormous gang of people and the mindset that 'you can come if you want, you can leave if you want. We don't know what's going to happen. All we know is we're not looking back.' What could be more American?"
Biletele vor fi puse in vanzare prin Ticketmaster incepand cu 14 Februarie.Mai multe informatii despre bilete pe Dead50.net
Dupa trupe despartite si documentare/concerte de adio din partea altora,parca avem nevoie si de o stire de genul asta.Rock in Rio USA Festival(de ce e in Rio daca e in USA?Ma rog...)va avea loc intr-o perioada de doua saptamani in luna mai,acestea fiind impartit pe weekend-ul de Rock si weekend-ul de Pop,cel care ne intereseaza pe noi avand loc pe 8 si 9 Mai in Las Vegas.Numele anuntate pentru aceste doua zile suna cam asa:Metallica,Sepultura,The Pretty Reckless,Rise Against,Deftones,Of Mice and Men si Hollywood Undead.
Si daca putina muzica Pop nu va transforma saliva instant in spuma,Bruno Mars,Sam Smith,John Legend,Jessie J si Ed Sheeran mai sunt si ei anuntati.Haideti ca se putea si mai rau...
___________________________________________________